Minneapolis hikers shocked by frozen caveman sculpture
Hikers were shocked on Thursday to discover a frozen caveman next to the tracks of a Minneapolis park, according to reports.
The "Ice Male" sculpture stands next to 2 tracks in Theodore Wirth Park, revealing a caveman called "Zug Zug" enclosed in plastic that looks like ice.
Artist Zach Schumack wished to utilize the sculpture after having it in storage because it made a one-night launching at a marketing occasion.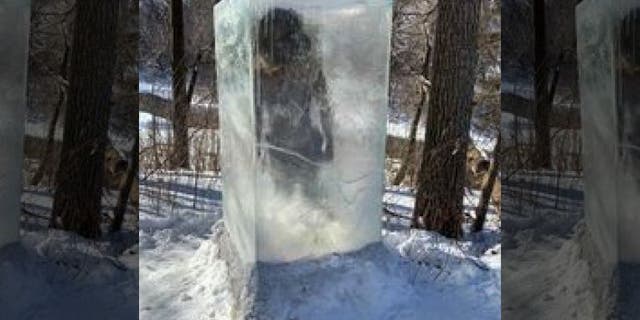 " Every day I would go to my garage and see this thing taking a look at me and it looked like such a pity that this art piece was simply sitting there," Schumack told FOX 9.
He produced the piece after his buddy was approached by regional advertising agency Hunter Adkins.
" I truly like that it's getting some attention due to the fact that it's getting individuals to escape their Televisions and computer system screens," he included. Schumack described that he wished to do something individuals might delight in, so he and his good friends planted the statue as a "trick."
MINNESOTA BOYS DONATE EARNINGS TO RESTAURANT AFTER TIP THEFT
Schumack has actually gotten his desire as regional homeowners have actually explained the statue as an enjoyable surprise.
" I do not believe anybody has actually ever seen anything rather like this," Ellen Lasnertold WCCO "This is rather an art setup out in the middle of the woods."
While he did not appear to have approval initially, Schumack's piece has actually acquired the assistance of the park board after the 2 sides struck a contract.
The piece will stay in location up until the snow melts.
CLICK HERE TO GET THE FOX NEWS APP
Schumack likewise hinted that Zug Zug may have a "female buddy" too.